Unlock the DEX: FreeWallet.io
By: Satoshi Nakamurmur - Posted: January 31st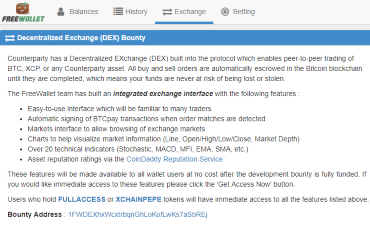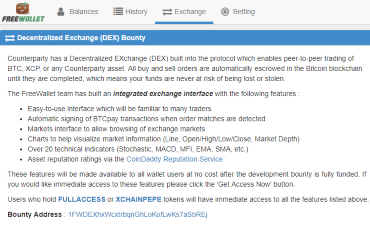 Counterparty has a Decentralized EXchange (DEX) built into the protocol which enables peer-to-peer trading of BTC, XCP, or any Counterparty asset. All buy and sell orders are automatically escrowed in the Bitcoin blockchain until they are completed, which means your funds are never at risk of being lost or stolen.
The FreeWallet team has built an integrated exchange interface with the following features:
Easy-to-use interface which will be familiar to many traders
Automatic signing of BTCpay transactions when order matches are detected
Markets interface to allow browsing of exchange markets
Charts to help visualize market information (Line, Open/High/Low/Close, Market Depth)
Over 20 technical indicators (Stochastic, MACD, MFI, EMA, SMA, etc.)
Asset reputation ratings via the CoinDaddy Reputation Service
These features will be made available to all wallet users at no cost after the development bounty is fully funded.